The sun is out and vibrant colors are everywhere! You can let go of those neutrals and warms and say hello to colors of the rainbow once again. With so many colors and products to choose from, how do you figure out what to use? Check out our recommendations and other products to get you completely set for the Spring and upcoming Summer seasons, specifically in regards to Lioele!
1. Lioele Volume & Curling Mascara
No longer do your lashes have to be quiet for the Winter. Let them scream out with volume this season. This mascara is for you if you have the typical "Asian lashes" which are commonly stick-strong, tough to curl and lack volume.
What else is unique about this mascara? Its peanut-shaped mascara wand. With two wider ends, you can really get into the areas on each end of the lashes which are typically hardest to get into with the average mascara wand. Its bristles lock onto each hair from the root and allows a gentle pull through for volumized eyelashes to the extreme.
2. Lioele Sun Elastic Pact
Who likes sun patches? No one does! That is why it is so important to protect your skin during the warmest seasons when the sun is out. The more your sun is exposed to the sun and its harmful rays without protection, the more likely it is that your skin will develop dark patches and wrinkles along with absorbing the sun's harmful UV rays.
A gentle sunshine may seem harmless, but if you are outside too long under its warmth, you skin can still be harmed so be cautious!
The Lioele Sun Elastic Pact has soft elasticity like a sponge. The elastic powder with sebum control effects produces a dry and soft skin all day long, and double coating with silicon and amino acid on highly particulate powder enables fine and thin application of it to your skin without any powder flying. This maintains smooth skin like silk by adding a feel of dim pearl and is a pact that is not broken by absorbing shocks even if it is thrown. Protect your skin, flawlessly!
3. Lioele Real Color Eyeshadows
Eyeshadow is the part of your makeup routine where you can get most creative. If you've hit pan on your warmer toned colors like browns, coppers, blacks, beige, pearls, etc., then its time to touch the other colors on your palette. We suggest colors like 07 Shine Pink Peach, 14 Sky, 18 Satin Grape, 27 Gold Peach and 32 Apple Green. C'mon, Spring only comes around once a year, right? Don't be afraid to try out new colors and new color combinations. You may find your niche and "your look"!
4. Lioele L'Cret Miracle Lipsticks
Check out this seriously personalized lipstick that matches YOU. It is a super-long-lasting lip stick that changes to your body chemistry. This is a six-in-one lipstick with seven different features. It's a lip balm, lip color, lip tint, lipstick, lip treatment, and also has UV protection. The color will change based on the lipstick color and your individual pH levels. Even protects your lips from harmful UV rays with SPF 14. This long lasting lipstick will give your lips 12 hours of hydration and wear, endurable after dinner, afternoon tea, and even a kiss! Perfect for Spring, don't you think? Choose from 5 beautiful changing colors.
5. Lioele Real Vivid Lipsticks
A cream type matte lipstick with no lumping and drying, adhering smoothly to the lips providing excellent hydration,gives a vivid, clear,and distinct look without additional applications. Contains silicone coating element that minimizes smearing by lightly forming a film that covers the lips. Contains vegetable oil which is excellent in moisturizing lips to relieve flaky skin. Gently adheres to dry lips to give a complete bright color. No more dry skin + a great color? Especially for matte products which are hard to come by, this is A MUST-HAVE!
6. Lioele Nail Polishes
Lioele L'Cret Quick & Dry Coating Nail Polish dries in only seconds so you can go out and enjoy the sun instead of flapping your hands like a bird waiting for your nails to finish drying. They provide vivid and long lasting color with only a few coats! Multiple colors to choose from so color combinations for the Spring are endless!
7. Lioele Bon Bon Lip Glosses
C

omes in five sweet and adorable colors. Each color is glossy and creates shiny alluring lips for any occasion. It's long-lasting and moisturizing, so wear it all day for beautiful moist lips. Let the sunshine glisten over your lips this season and enjoy the moisturize that it does not take away from you. Which color best suits you?
8. Lioele Carry Me Blusher
One of our favorite blushers and a top-seller! With the warmer seasons, you're sure to be heading outside and being on the go more often. That's why this blusher is a perfect fit! With a built-in sponge applicator and its small packaging size, you can bring it with you wherever you go. It also works great on a vanity since you can unscrew the sponge top and use the loose powder with a brush!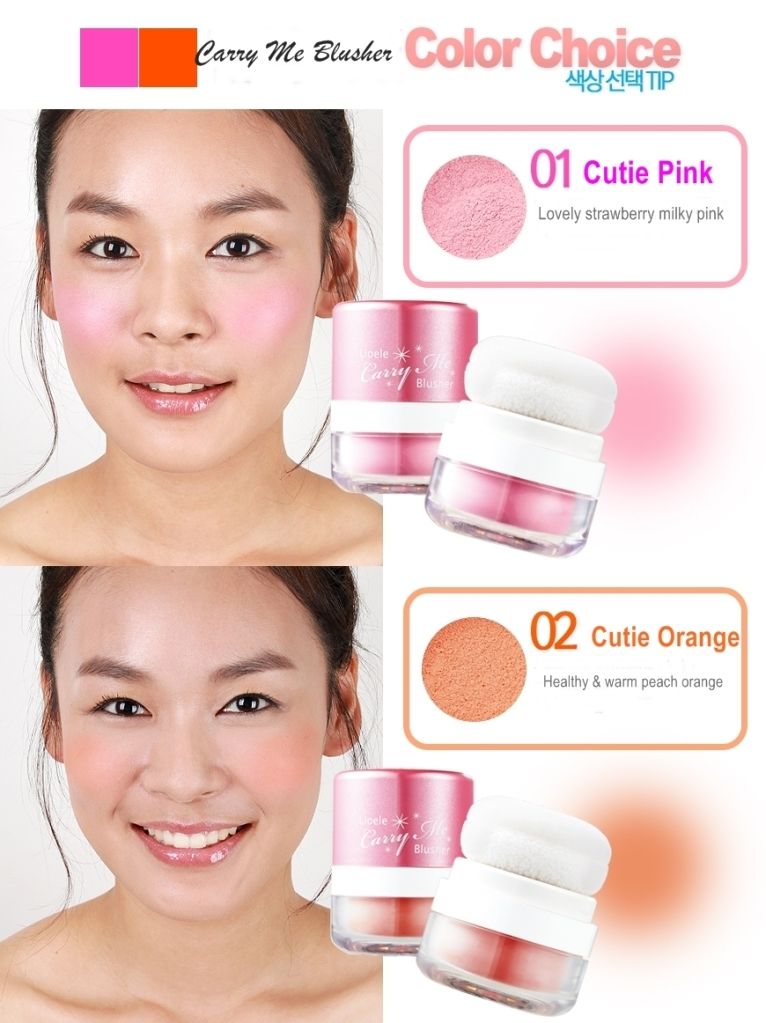 9. Lioele Jewel Glittering Eyeliner
Forget those overpriced eyeliners that don't last. These creamy eyeliners can double as an eyeshadow by blending them onto the eyelid promptly with a brush as well! With a selection of neutrals and vibrant colors, you can create as many looks as you please without breaking the bank. Whats even better? The colors last and last and are the most waterproof thing you'll ever find so you don't have to worry about re-applying or smudging. Honestly! Choose from 9 beautiful colors. We must note: Aqua green and Marine Blue are just to-die-for..
Be creative and colorful this season. Brighten your look with vibrant colors and protect your skin this Spring with sun protective products. Colors are a great way to go but unfortunately, a sun-kissed sunburn doesn't exactly fall into this trend. Have fun and play around with colors until you find your favorite combos. Of these, which are you interested in trying out? Happy Spring!